Delicious Appetizing Dishes

Want to surprise your husband or wife with an intimate dinner for two; Impress your date with one of my delicious plates; Having guests over for brunch or tea? Call Me!
Destiny's DAD
Offering an exciting culinary experience for small intimate gatherings:
Brunches * Dinners * Anniversaries * Teas *
Destiny's DAD is a Personal Chef offering exciting and equisite culinary cuisine for small and intimate affairs. Destiny's DAD provides and prepares fine dining at your convenience. We do not just offer fine dining, working inconjuction with an event planner SHESOIRE'E your affair can be made even more special by having your home, hotel room or any setting decorated for the occasion. Our focus will always remain small and intimate to give you not only excellent professional service but also to maintain the elegant dining experience that you deserve.
To Schedule Your Intimate Affair Contact:
Chef Charles Williams, AST, ACF
(215) 605 - 6868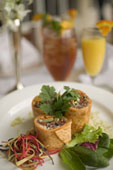 Want to make your experience with Destiny's DAD even more dazzling and elegant? Try SHE SOIRE'E for Event Planning and Design at: